Latest Update: Aug 20, 2019

---
………..
......................................
.Follow @BASAstronomy


---
STARFEST is happening Aug 22 to 25!
Contact www.nyaa.ca to register

---
Dark of Moon Viewing at Fox Observatory.
Sat Aug 31 (9 pm), Weather-permitting.

---
Next BAS meeting Sep 4 at Fox Observatory 7 pm
Public welcome, viewing afterwards, weather-permitting.
MAP

---
Apollo-50 Special Edition now available! Click below:


---
See COMING EVENTS for details of other BAS events.

---
BAS receives a wonderful gift:


A generous donation was recently made to our club to further the ends of astronomy education in this area. Doug Scott, a local amateur astronomer, passed away July 2, 2019 and donated virtually all of his astronomical equipment to BAS to ensure that it would continue to be used to promote astronomy locally. The photo below shows a portion of the items BAS has received from his estate. It includes a Celestron C-11, Takahashi 8-inch Cassegrain-Newtonian, a TAL 150K reflector, a Vixen 4-inch reflector and a Skywatcher 100 mm refractor.

There are also two equatorial mounts with tripods, eyepieces, a Telrad finder, Star Shoot camera, and various other accessories.

BAS is eminently grateful for the bequest, and has made a donation to the Cancer Society as a small thank you. Rest assured that we will remember Doug as we pursue our astronomy activities.



Doug Scott passed away July 2, 2019
in Southampton, ON

---
---

Naked Eye/Binocular Astronomy Events
---

Summer 2019


Jupiter and Saturn Viewing in the Evening Sky NOW!

The brightest planet in the sky right now is Jupiter and it is high in the sky at sunset and remains visible into the wee hours of the morning. Saturn follows Jupiter (look left of the Milky Way) by a couple of hours. Both planets reach opposition this summer and are well placed for viewing straddling the Milky Way until late fall.

Eventually Venus and Mercury make their way into the evening sky as well but it is not until late Sep/Nov that they get far enough from the Sun to be easily seen. The Evening Star will shine much more prominently in the spring of 2020.

Viewing Guides from Brian Ventrudo Cosmic Pursuits here: Saturn Viewing Guide 2019 and Jupiter Viewing Guide 2019



Summer 2019 Astronomy Events



COMPLETE list of ASTRONOMY EVENTS FOR 2019 available here: ASTRONOMY 2019
---

Glossary of terms used below can be found here: GLOSSARY

Note: Time column is UT, subtract 5 hours for local EST, 4 hours during DST (after March 10).
See SKY SIGHTS or COMING EVENTS for more details about specific events.
---
August
2019
September 2019

---
BACK TO TOP

From Our Astrophotographers:

Locate Jupiter and Saturn near MW
The planets of the summer, Jupiter and Saturn are visible in this image taken from Owen Sound, the southern edge of town overlooking Harrison Park (right) and Niagara Escarpment (left). It is up to you to find them. Jupiter is easy, as the brightest object in this shot, but Saturn is a bit trickier. Get out your star charts and have a go. Image taken by John H. with Canon 6D and 12 mm Samyang lens at f/2.8 and ISO 3200. The Milky Way shows up nicely right from Sagittarius to the star Deneb in the Summer Triangle.
Image was enhanced with Photoshop.


---
Jupiter worth observing any night this summer.
The opposition of Jupiter occurred last June and now the Gas Giant is back in our skies right at sunset. Start observing its cloud patterns and moon dance. Frank Williams captured this view on June 12 when two moons crossed the face of the Jovian disk. Io is the bright dot just touching the dark shadow near the right edge and Ganymede is about the same distance from its larger shadow at upper centre but it is not visible in this image. At this point in Jupiter's orbit, the shadows fall almost straight back from any moon blocking the light so the moons will appear very close to their shadows for a time.

Frank adds: Using a Celestron 11" SCT Televue 2X powermate Canon 6d iso 3200 1/160th second and 3500 frames, stacked the best 350. (In Autostakert) , then processed in Registax (wavelet sharpening), and Pixinsight for noise reduction.

Really need a planetary camera (faster more frames) / higher planet elevation, better seeing , etc. Etc. to improve much further.

---
BACK TO TOP
---
Lagoon and Trifid Nebulas
The many deep sky objects of the Milky Way in Sagittarius and Scorpius are coming to a sky near you soon. And with it are Messier objects like the globular cluster M22, the Sagittarius Star Cloud M24 (see May SGN Image of the Month) and the Lagoon and Trifid Nebulas. Featured in this section is another Frank Williams image of the M8 and M20 region taken last fall. Frank was using a Canon 6D at the prime focus of a Tec 140 mm (5.5 inch) refractor. The final image is a stack of 60 3 minute exposures.


Andromeda Galaxy A relative newbie at astro-imaging, Rob Walker has dived into the hobby deeply. His fine image of M31 the Andromeda Galaxy below is one of his latest efforts and an indication of many fine views to come. Nice work Rob! The shot was made with a 400 mm Sony telephoto lens borrowed from Frank W. Enjoy! (The small "plus" sign in the upper corner is an artifact.)

BACK TO TOP

---
ES Fox Observatory Clear Sky Chart
Note: the chart below may not show the current cloud patterns.Click anywhere on the chart for the current display. If chart is still out of date try clearing your browser cache.


---

BACK TO TOP

Auroral Displays
Auroral displays in our area are declining as we are now passing through solar minimum. There have been periods of "blank Sun" where sunspots have been totally absent for a time. However, magnetic disturbances from the sun continue to produce auroras in the auroral zones and sometimes farther south (or north for aurora australis). So if the auroral oval in the graphic below is showing any RED, aurora borealis may be visible from your location. The graphic is updated regularly with time indicated at the top in UT so subtract 5 h to get local EST, or 4 h for DST. (Use the appropriate factor for other time zones). For more information click here: NOAA home website.
---
To receive auroral alerts directly to your email inbox as they are announced, visit NOAA Subscription Service (SWPC) and sign up for their alert service (still free).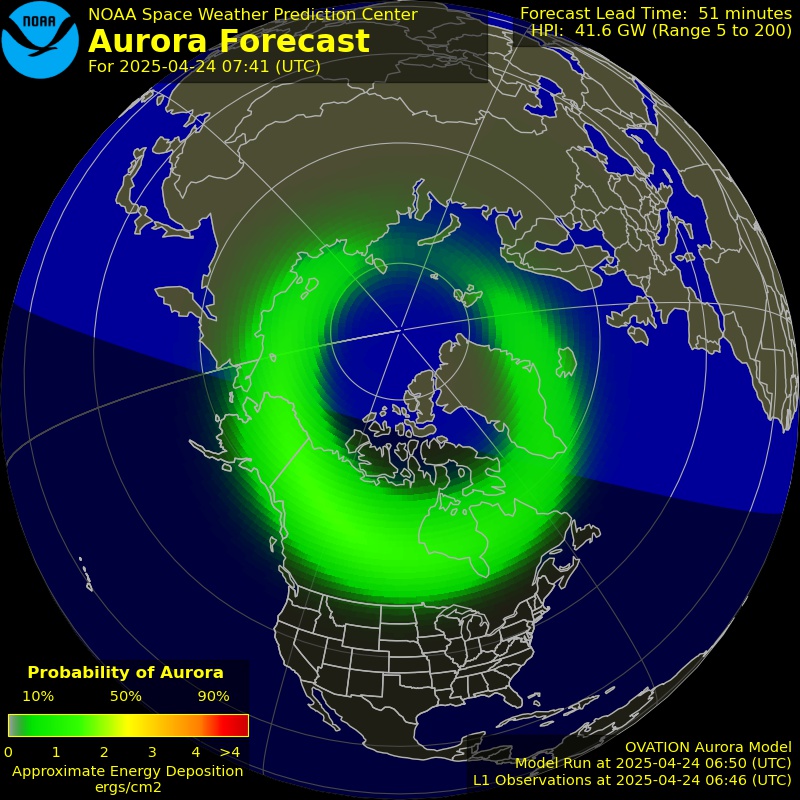 ---
Click on image below for the
Current Planetary Index Chart or Latest Solar Heliospheric Observatory Images:

...........................


BACK TO TOP

---

From the Canada-France-Hawaii Telescope Image Archives:
A recent meeting of BAS showed images from the CFHT on Mauna Kea. By popular demand, this space will be devoted to showcasing some of these. Have a look at this site for more: CFHT Image Of Month




Star trails and "see-through" dome. Polaris altitude = 20° at Mauna Kea.



Horsehead Nebula



Helix Nebula



NGC 6124 Open Cluster



Portion of North America Nebula (Gulf of Mexico/Yucatan)



Spiral galaxy IC 342



Dust Cloud in Milky Way (B143)

---