Latest Update: Mar 13, 2019

---
………..
......................................
.Follow @BASAstronomy


---
The BOEC was declared Canada's 15th Dark Sky Preserve in Nov 2012.
More here: DSP BOEC

At the ES Fox Observatory (established in 2011), we have a large reflecting telescope (a 28-inch Webster -temporarily under repair) and a 10-inch SCT on a GOTO mount that we use regularly for public viewing. We welcome new members.
See CONTACT US to join.


Click for maps to: ES Fox Observatory or: Bailey Hall OSDSS.


---
BAS Club Events for 2019 available here: 2019 BAS Club Events

---
MARCH 2019 StarGazerNews is now available!
Click on cover below:


---

Comet Wirtanen and C/2018 Y1 Yakamoto now very faint: See VIS.COMETS page for details)
---

Next BAS Meeting is Apr 3, 2019 at Bailey Hall OSDSS, 7 pm (MAP)
More details on MEETING RECAP page.

---
BACK TO TOP
---

Naked Eye/Binocular Astronomy Events
Spring 2019
---

Look to the Morning Sky for Planet Action
Venus is now spectacular as Morning Star and Mercury will appear in the western sky after sunset by mid-Feb. Jupiter is also a morning object and so is Saturn -all three are visible before sunup this winter. Look for nice groupings of the thin last crescent Moon with the naked-eye planets at month end all winter.

One (moderately) Bright Evening Planet (Mars) and one binocular gas giant (Uranus)

Only Mars remains in the evening sky as a naked eye planet. Mars will hang high above the SW horizon (50°!) until June of next year as it is moving to the east about as fast as the sky is "moving west" on a daily basis. Seeing surface features on the planet is difficult now and it is shrinking in apparent size. In June 2019, when Mars disappears into the solar glow, it is less than 10 arc-seconds across, less than half what it was at opposition. However, over the next several months, watch Mars travel through lower Taurus towards a meeting with the Pleiades at the end of March -it will be a nice photo op from March 30 to Apr3 or so!



March/April 2019 Astronomy Events

COMPLETE list of ASTRONOMY EVENTS FOR 2019 available here: ASTRONOMY 2019
---

Glossary of terms used below can be found here: GLOSSARY
Note: Time column is UT, subtract 5 hours for local EST, 4 hours during DST (after March 10).
See SKY SIGHTS for more details about specific events.

---

March 2019
March
01…Fri…..8:40 Saturn 0.3°S of Moon: Occultation in Central Pacific. Occultation occurs below horizon for us.
02…Sat...21:28 Venus 1.2°N of Moon. Look for Jupiter, Saturn, crescent Moon, Venus in 6 am dawn sky. Nice!
04...Mon..11:25 Moon at apogee : 406 391 km
06...Wed..16:04 New Moon rises locally at 7:14 am EST
06…Wed..19:00 EST -First BAS meeting at Bailey Hall OSDSS 7 pm MAP
07...Thu…01:00 Neptune in Conjunction with Sun (not easily visible)
09…Sat…20:00 Dark of the Moon viewing night at Fox Observatory. See COMING EVENTS for details.
10...Sun...02:00 Daylight Saving Time starts (clocks ahead 1 hour)
11...Mon..12:09 Mars 5.8°N of Moon
13...Wed..10:13 Aldebaran 1.9°S of Moon
14...Thu…10:27 FQ Moon rises locally at 12:14 am DST
15...Fri…..02:00 Mercury at Inferior Conjunction (not easily visible)
17...Sun…13:01 Beehive 0.5°N of Moon
18...Mon…23:59 Regulus 2.6°S of Moon
19...Tue…19:47 Moon at perigee : 359 381 km
20...Wed..21:58 Vernal Equinox (Sun altitude 45° 20' and climbing)
21...Thu…01:43 Full Moon rises locally at 7:15 pm DST
27...Wed..02:28 Jupiter 1.9°S of Moon
28...Thu…04:10 LQ Moon rises locally at 3:13 am DST
29...Fri….05:11 Saturn 0.1°N of Moon: Occ'n S.Afr./Indian O. Closest for us is 2.2° at moonrise 3:06 am EST
31...Sun...03:06 Mars 3.1°S of Pleiades
March 28 to Apr 3: Look for Mars near Pleiades -minimum separation Mar 30&31 at 3°. See SKY SIGHTS

---
April 2019
02..Tue…..04:18 Venus 2.7°N of Crescent Moon, Mercury and Neptune 0.4° apart at 6:30 am, nice grouping at dawn!
02………..23:01 Mercury 3.6°N of Moon
03…Wed..19:00 DST BAS meets at Bailey Hall OSDSS 7 pm MAP Astronomy Trivia Night
05..Fri……08:50 New Moon rises locally at 7:31 am DST
06…Sat…20:00 Dark of the Moon viewing night at Fox Observatory. See COMING EVENTS for details.
09..Tue…..06:40 Mars 4.7°N of Moon
09………..15:43 Aldebaran 2.1°S of Moon
11..Thu….19:00 Mercury at Greatest Elongation West of Sun: 27.7°W
12..Fri……19:06 FQ Moon rises locally at 11:59 am DST
13..Sat……20:12 Beehive 0.2°N of Moon
15..Mon….00:24 Mars 6.4°N of Aldebaran
15…………08:22 Regulus 2.7°S of Moon
16..Tue…..20:00 Mercury 4.3° of Venus
16…………22:02 Moon at perigee : 364 209 km
19..Fri……11:12 Full Moon rises locally at 8:36 pm DST
22 ..Mon...18:00 Lyrid Meteor Shower (20/h peak 8 pm DST Apr 22, Moon 88%)
23..Tue…. 00:00 Uranus in Conjunction with Sun (not easily visible)
23………. 11:36 Jupiter 1.6°S of Moon
25..Thu…..14:38 Saturn 0.4°N of Moon: Occultation in S.Pacific Australia to S.America. Closest approach is 0.8° bef. moonset (daytime) in W 11:04 am.
26..Fri…….22:18 LQ Moon rises locally at 2:41 am DST
28..Sun…..18:20 Moon at apogee : 404 577 km

---
BACK TO TOP

From Our Astrophotographers:


Cross-Canada Lunar Eclipse Jan 20/21, 2019
The lunar eclipse was clouded out for the most part locally, but intrepid BAS photographers (and friends) braved the wintery N. American climate to capture some stunning images of the event. Submissions came from Peter Thor and Rick Hirtle in Salmon Arm BC, Aaron Dittrich, Cochrane AB, Troy Johnstone, Olds AB, Robert Atkinson, London ON, Brett Tatton, Port Elgin ON, Ken Pituley Brampton ON, Frank Williams Allenford ON and even from across the border in St. Paul MN, c/o Chris Hlynialuk.

The entire imagers' contributions with details of equipment and settings can be found in the Lunar Eclipse Special which you can download here:
Lunar Eclipse Special .

The selection below showcases a few of the photos in the Lunar Eclipse Special (also see the Feb 2019 issue of SGN). Enjoy!



---

BACK TO TOP

---
ES Fox Observatory Clear Sky Chart
Note: the chart below may not show the current cloud patterns.Click anywhere on the chart for the current display. If chart is still out of date try clearing your browser cache.


---

BACK TO TOP

Auroral Displays
Auroral displays in our area are declining as we are now passing through solar minimum. There have been periods of "blank Sun" where sunspots have been totally absent for a time. However, magnetic disturbances from the sun continue to produce auroras in the auroral zones and sometimes farther south (or north for aurora australis). So if the auroral oval in the graphic below is showing any RED, aurora borealis may be visible from your location. The graphic is updated regularly with time indicated at the top in UT so subtract 5 h to get local EST, or 4 h for DST. (Use the appropriate factor for other time zones). For more information click here: NOAA home website.
---
To receive auroral alerts directly to your email inbox as they are announced, visit NOAA Subscription Service (SWPC) and sign up for their alert service (still free).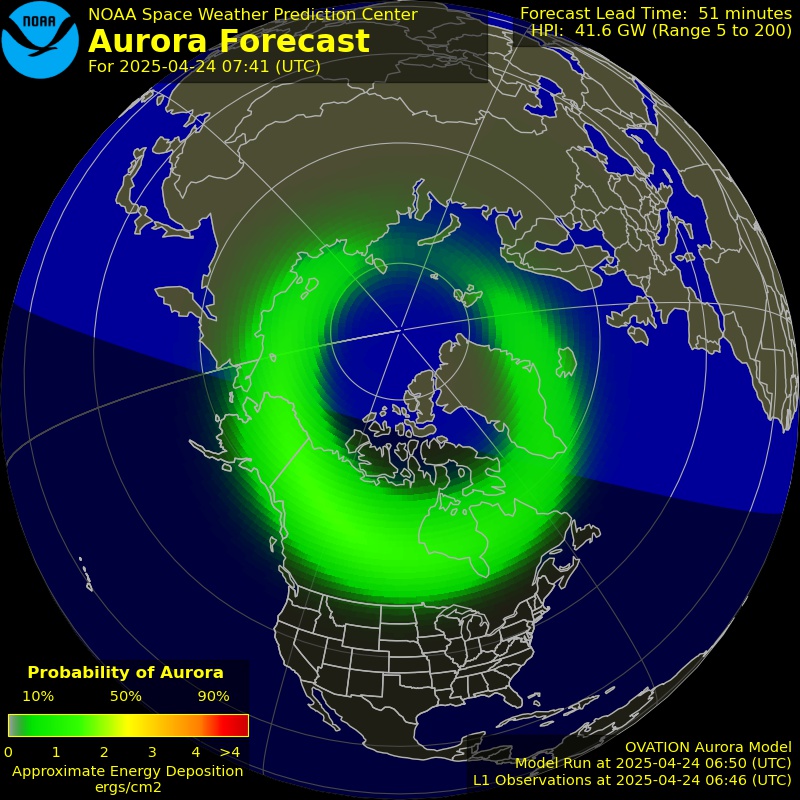 ---
Click on image below for the
Current Planetary Index Chart or Latest Solar Heliospheric Observatory Images:

...........................


BACK TO TOP

---

From the Canada-France-Hawaii Telescope Image Archives:
A recent meeting of BAS showed images from the CFHT on Mauna Kea. By popular demand, this space will be devoted to showcasing some of these. Have a look at this site for more: CFHT Image Of Month




Star trails and "see-through" dome. Polaris altitude = 20° at Mauna Kea.



Horsehead Nebula



Helix Nebula



NGC 6124 Open Cluster



Portion of North America Nebula (Gulf of Mexico/Yucatan)



Spiral galaxy IC 342



Dust Cloud in Milky Way (B143)

---