Latest update "Frigga's Day": August 3, 2018

………..
.......................................Follow @BASAstronomy


---
---
The BOEC was declared Canada's 15th Dark Sky Preserve in Nov 2012.
(More here: DSP BOEC).
At the ES Fox Observatory (established in 2011), we have a large reflecting telescope (a 28-inch Webster) and a 10-inch SCT on a GOTO mount that we use regularly for public viewing. We welcome new members.
See CONTACT US to join.

---
Click for maps to: ES Fox Observatory or: Bailey Hall OSDSS.
---
AUGUST 2018 SGN now available -see sidebar or NEWSLETTER tab.
---
Mars coming back? Hopeful signs…

As of July 27, NASA has reported some hopeful signs in the planet-wide dust storm currently raging on Mars. The air is starting to clear in images made by the rover Curiosity in Gale crater and more distant features are starting to appear. Read more about this hopeful development in the BAS WEBLOG

---

Aug 9-12, 2018: STARFEST at the River Place near Mt. Forest. More info on COMING EVENTS page.




BAS always has a sizeable contingent of members attending Starfest in the summer. Webster (background) also draws a big crowd after dark. John H. Photo


---

Sep 5, 2018: Next BAS Meeting at Fox Observatory, Topic: Starfest Recap. More details on COMING EVENTS page.
---

LAST BAS SUMMER meeting at ES Fox Obs. is Sep 5, 2018

---

BAS regular meetings are the 1st Wed of the month at 7 pm except in January and February. Meetings in the fall 2018 will be at Bailey Hall (OSDSS rm 315). Meetings June 6, July 4, Aug 1 and Sep 5 are at the Fox Observatory. Check the calendar here: BAS 2018 Club Events for meeting dates and other events like public viewing nights at the Fox Observatory.

Please note: The Fox Observatory is NOT available WEEKDAY evenings for viewing during the school year since OEC school activities take precedence. BAS members have the privilege of impromptu observing but please contact Brett T. bretttatton@gmail.com or John H. stargazerjohn@rogers.com to be put on the list (members only).

NOTE: ALL observing events require clear skies. If it is overcast or raining, observing will NOT be possible. If you arrive at the venue and it is overcast or raining, there may not be any BAS members there. See COMING EVENTS page for more details and instructions including a contact phone number if you are unsure about weather cancellation. When visiting the Fox Observatory, please park at the main lot by the Learning Centre (the green-roofed building by the big barn). Parking near the observatory is reserved for disability access and equipment drop-off.

NOTE: BAS meetings are open to the public at no charge. BAS viewings at the ES Fox Observatory are also held on Dark of the Moon weekends but please check the monthly listing below and our BAS 2018 Club Events for specific dates and time. The ES Fox observatory is NOT available for viewing during school year weekdays since OEC activities take precedence.

We welcome out-of-town guests to all of our listed public observing nights. Individuals or groups may request private tours on other dates (subject to availability of guides and on a fee basis) by contacting John H. at: stargazerjohn@rogers.com


---
Details for astronomy viewing events for July and August 2018 are listed below and on the COMING EVENTS page. A complete list of ASTRONOMY EVENTS FOR 2018 is available here: ASTRONOMY EVENTS 2018 A separate list of Club Events (meeting dates, public observing sessions, etc.) for 2018 is available here: BAS 2018 Club Events


---
July/August/Sept 2018 Astronomy Events
---

COMPLETE list of ASTRONOMY EVENTS FOR 2018 available here: ASTRONOMY 2018

---
Glossary of terms used here: GLOSSARY

Aug 2018
01 Wed 19:00 BAS meeting at ES Fox Observatory: Frank Williams on Planetary Image processing (Jupiter)
04 Sat 13:18 LQ rises locally at 12:18 am EDT
04 Sat 21:00 Dark of Moon@Fox viewing (3rd Quarter actually) Mars and Saturn Viewing!
06 Mon 13:35 Aldebaran 1.1°S of Moon
08 Wed 21:00 Mercury at Inferior Conjunction (not visible)
09 to 12 STARFEST (Register at www.nyaa.ca)
10 Fri 13:05 Moon at Perigee: 358 083 km
11 Sat 04:46 Partial Solar Eclipse; mag=0.737 (40% In Greenland, N. Europe, Asia. max = 80%)
11 Sat 04:58 NM rises locally at 6:26 pm EDT (not visible)
11 Sat 20:00 Dark of Moon@Fox viewing is available to BAS members/guests; contact exec for access. This is not a public night. Note: many BAS members will be at Starfest.
12 Sun 20:00 Perseid Meteors (90/h, Moon 4% -best of year! Viewing at Fox Obs. weather permitting -public invited)
14 Tue 08:35 Venus 6.3°S of Moon
16 Thu 20:00 Kincardine Star gazing (public viewing at Soccer Fields)
17 Fri 05:38 Jupiter 4.5°S of Moon
17 Fri 11:00 Venus at Greatest Elongation 45.9°E
18 Sat 02:49 FQ rises locally at 2:40 pm EDT
20 Mon 21:09 Mercury 4.8°S of Beehive
20 Mon 20:00 Rod Smith OS Cubs Group @Fox (private group)
21 Tue 04:55 Saturn 2.1°S of Moon
21&22 Tue/Wed Independent First Nations Conference attendees have star tours at Fox 8 pm
23 Thu 06:23 Moon at Apogee: 405 744 km
26 Sun 06:56 FM rises locally at 8:35 pm EDT
26 Sun 15:00 Mercury at Greatest Elongation 18.3°W
31 Fri 23:45 Venus 1.0°S of Spica

September 2018
02 Sun 20:34 Aldebaran 1.2°S of Moon
02 Sun 21:37 LQ Moon rises locally at 12:02 am EDT
03 to 19 Best time to Observe Comet 21/P Giacobini-Zinner Look in Auriga then Gemini (chart here:VIS.COMETS)
05 Wed 19:00 BAS meeting at ES Fox Observatory Starfest recap
06 Thu 21:13 Beehive 1.4°N of Moon
07 Fri 12:00 Neptune at Opposition (magnitude 7.8)
07 20:21 Moon at Perigee: 361 355 km
08 Sat 20:00 Dark of Moon public viewing @Fox (Comet G-Z viewing and Mars! -see WEBLOG)
09 Sun 13:01 NM rises locally at 6:32 am EDT (not visible)
13 Thu 21:21 Jupiter 4.4°S of Moon
14 Fri - 16 Sun Inverhuron Dark Sky Weekend (members' camping free, contact John H. for details)
16 Sun 18:15 FQ rises locally at 2:29 pm EDT
17 Mon 11:46 Saturn 2.1°S of Moon
19 Wed 19:54 Moon at Apogee: 404 875 km
20 Thu 01:38 Mars 4.8°S of Moon
20 21:00 Mercury at Superior Conjunction (not visible)
22 Sat 20:54 Autumnal Equinox (Fall starts)
24 Mon 21:52 FM rises locally at 7:32 pm EDT
30 Sun 02:06 Aldebaran 1.4°S of Moon


---
BACK TO TOP

Naked Eye/Binocular Astronomy Events

---
Summer, 2018
Venus -a Bright Evening Star in the West until Fall
Venus is now the only Evening Star in the west as Mercury slips behind the Sun in the first week of April. Venus at magnitude -3.9 far outshines any other object (except maybe the ISS on occasion) in the western sky.

Venus continues to track eastward and has passed the Pleiades continuing its trek into Taurus. By the end of May it has crossed into the centre of Gemini. Before the summer is over it will make a close pass at Regulus in Leo as well.

---

Three 3 am Planets Across the Milky Way
-Jupiter Opposition May 9
-Saturn June 27
-Mars July 27

If you are observing after midnight these mornings you have seen the preview of the summer sky with three planets strung across the Milky Way. In May Jupiter came up shortly after sunset and it reached opposition on May 9 rising at sunset, reaching maximum elevation at midnight (1 am DST) and setting at dawn. The jovian Red Spot is on the viewing agenda for the BAS Dark of the Moon viewing nights this summer. Next to clear the SE horizon is Saturn and its rings are well displayed by the time Mars rises an hour later. Saturn's rings are tilted nearly the maximum they can be (26° in June and July). As summer progresses, Mars too becomes bright and prominent with the diameter steadily growing. It is about 15 seconds of arc across at the end of May and by Aug 1 will be 24.3 seconds. This is bigger than the disk of Saturn (which ranges from 15 to 18 seconds at opposition) but not as big as Jupiter (31 to 45 seconds across). Surface features on Mars will become detectable more easily this month.




Image of Jupiter and Mars by Frank Williams, Saturn diagram from Starry Night Pro


PLANET VIEWING GUIDES for 2018
---


Jupiter viewing guide from Cosmic Pursuits available here: Jupiter Viewing 2018

Mars viewing guide here: SkyNews Mars Guide and here from Cosmic Pursuits: Cosmic Pursuits Mars Guide

Saturn viewing guide here: S&T Saturn Guide

---
BACK TO TOP
---
From Our Astrophotographers:

Image below shows the spread of the planets Mars, Saturn and Jupiter along the ecliptic from Libra to Sagittarius that we see this summer. The Milky Way will be straddled by Mars (lower left) Jupiter (right at tree edge) and Saturn hiding above the Sagittarius teapot. This image was taken at the Bruce Peninsula National Park while BAS members provided views with telescopes to campers. Image taken on July 14, 2018 at 11:30 pm. The Webster-28 inch is in the dark below the green laser beam.



John H. image: Canon 6D, 20 s ISO 6400, with 12 mm Samyang f/2.8 wide angle.

---
Mercury Spotted July 14
Mercury made a faint appearance in the sky during the BPNP weekend as well. Three observers located it with binoculars just below the crescent Moon in deep twilight around 9 pm or so. Lorraine R. took this image with a Samsung smartphone camera (1/17s, f/1.9,foc.len. 3.7mm, ISO 200). Mercury appeared to have been captured on the camera in image (Canon 6D on tripod) but it turned out to be a hot pixel in the end.


Lorraine Rodgers image (Samsung phone)

---
Whirlpool Galaxy!
Local astrophotographer defeats cloudy weather (again)!

Frank Williams just keeps churning out the images! I know that each one is a lot of work having dabbled in it myself, but Frank has his workflow organized and keeps amazing us with the results. This image of M51 is possible since its location near the tip of the handle of Ursa Major is pretty much at the zenith right now at midnight and there is little atmospheric turbulence in that direction. In winter, M51 skims the horizon and there is no point in imaging or looking at it then. Do get out now and have a look with whatever telescope you have available.

Frank W. provides the following description:
This image is 11 hours with Canon 6d (modified) and cooled to -9C and a 12" F/8 RC *mallincam branded GSO truss scope (no field flattener) cropped to remove the ragged edges of stacked images. It is ~ 11 hours: 60 images 3 minutes each at ISO 800 and 159 images at 3 minutes ISO 3200 (found that cooled 6d is clean enough to increase the ISO). Calibrated, aligned, stacked and processed in Pixinsight. You can boost the saturation to your liking, but I have tried not to go overboard in processing. Many images of M51 (to my taste) are a bit gaudy.

BTW the [tiny] edge-on galaxy upper right [above the companion] is 230 Million ly away! M51 is only 30 million ly years away….

---
---
ES Fox Observatory Clear Sky Chart
Note: the chart below may not show the current cloud patterns.Click anywhere on the chart for the current display. If chart is still out of date try clearing your browser cache.


---

BACK TO TOP

Auroral Displays
Auroral displays in our area are declining as we have passed solar maximum. There have been periods of "blank Sun" where sunspots have been totally absent for a time. However, at far northern and southern latitudes near the auroral ovals, sometimes magnetic disturbances from the sun produce auroras even without visible sunspots. So if the auroral oval in the graphic below is showing an intense RED, aurora borealis may be visible from your location. The graphic is updated regularly with time indicated at the top in UT so subtract 5 h to get local EST, or 4 h for DST. (Use the appropriate factor for other time zones). For more information click here: NOAA home website.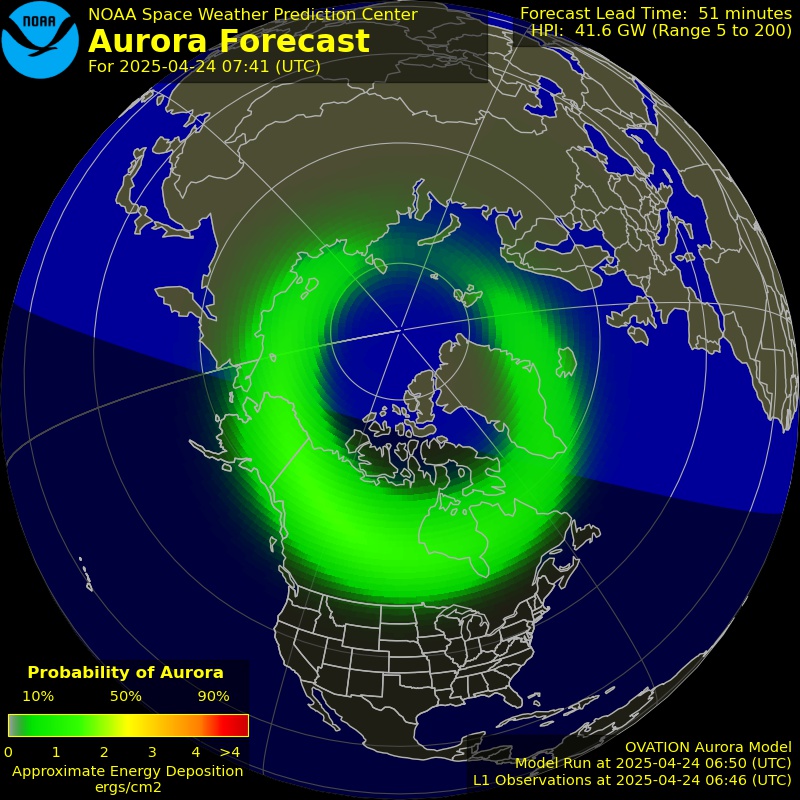 ---
Click on image below for the
Current Planetary Index Chart or Latest Solar Heliospheric Observatory Images:

...........................


BACK TO TOP

---

From the Canada-France-Hawaii Telescope Image Archives:
A recent meeting of BAS showed images from the CFHT on Mauna Kea. By popular demand, this space will be devoted to showcasing some of these. Have a look at this site for more: CFHT Image Of Month




Star trails and "see-through" dome. Polaris altitude = 20° at Mauna Kea.



Horsehead Nebula



Helix Nebula



NGC 6124 Open Cluster



Portion of North America Nebula (Gulf of Mexico/Yucatan)



Spiral galaxy IC 342



Dust Cloud in Milky Way (B143)

---